WJAJ-TV is a ABC-affiliated station that is licensed to Hartford City, Indiana and Shamrock Lakes, Indiana. It is a duopoly with independent station WGFR-FTV.
In 1978, Shamrock Lakes become a incorporated community, CBS bought the licenses and copyright for WJAJ and would license it to Shamrock Lakes...a town with only 95 people at the time. WJAJ would start broadcasting as a CBS-affiliate on June 15, 1978...Wolf Boom Radio would create a subsidiary called Wolf Boom Television...Wolf Boom Television would acquire WJAJ off of CBS in 1983, in 1984...WJAJ and WCCT would decide that they would connect together to form the Indiana Independent Network...however the Indiana Independent Network would never launch...and WJAJ would go black until 1989 when it relaunched as a ABC-affiliate...in 1995, WJAJ bought the website "www.wjajhartfordcity.com"...the first website for a television station...in 2007 it briefly became a CW affiliate, however by 2009 it was a ABC affiliate again. In 2019, Nexstar operated the station under the Nexstar Media Group Brand. It change the graphics into One of Nexstar Standard Graphics and offers a new logo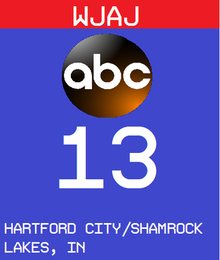 Community content is available under
CC-BY-SA
unless otherwise noted.